A few things I've been pondering this week: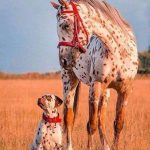 Favorite Pic – "An Appaloosa horse with his Dalmatian friend"
Book – The Devil in the White City by Erik Larson . Murder, Magic, and Madness at the Fair that Changed America. Scary and compelling, did this really happen? The first Ferris wheel and beautiful architecture! A must read. Might be one of my favorites for the year have several more books in the works
Article – The day I came down with COVID-19 A realization that this virus impacts our physicial bodies in many different ways, from the strong and the healthy to the weak and vunerable.
Quote – "Above all, do not lose your desire to walk: Every day I walk myself into a state of well-being and walk away from every illness; I have walked myself into my best thoughts, and I know of no thought so burdensome that one cannot walk away from it." Soren Kierkegaard
Blog – Trees and People "We can be more like trees opening our crown to the Universe and rooting down deep with our feet into mother earth" DailyOM
#whispersinmyheart